We asked the following leaders in the government contracting space their prediction for 2008.
"The 2008 federal government market will be shaped by continued changing market dynamics driving a new era of customer partnerships and alliances as mission performance takes on heightened significance. At Apptis we will continue to deliver exceptional service to our customers through innovative solutions and professional services targeted at solving critical business challenges. "
— Rene LaVigne, President and COO, Apptis Technology

"We expect that the drive toward larger, broader multiple award contract vehicles will continue. Winning a strong portfolio of those contracts is essential to be a viable competitor in the federal marketplace."


— Sudhakar Kesavan, CEO, ICF International
"Government agencies will test the waters in cloud computing. Early adopters will change the way Government organizations think about using technology tools hosted by trusted providers. These tools "" like spam filtering, email, and document collaboration "" can be provided as a service, saving agencies substantial software, hardware and maintenance costs, while providing users with a better solution."
— Mike Bradshaw, Federal Sector Head, Google
"2008 will prove to be another interesting but tough year for government contractors. Business growth will remain constrained due to budget fights between Congress and the president. As a result, we will continue to see a high level of M&A activity from large, public companies seeking to counteract their slowing organic growth."
— John Chapel, President & CEO, AVIEL Systems, Inc.
"For each of the past ten years the mid-sized firms in our market have lost market share. As of the end of 2007 they were down to 19% of the market with large and small businesses sharing relatively equally the remaining share. 2008 will be the year that the mid size firms stand up and reverse this trend. They will band together to speak out against this unhealthy trend and work to reverse its adverse impacts on the macro economy of the federal IT marketplace. " — Tim Keenan, CEO, HPTi.
"It's pretty clear to me 2008 will be the year of turbulence. With the budget issues, changes in the war funding, and general political disagreements, new starts will be delayed and modified. For responsive and agile companies things will be fine but for anyone who's along for the ride it will be a challenging year."

— John Barrass, COO, STG
"2008 will be marked by a conservative budget and acquisition climate across Federal. The year will start with a flurry of activity across all major agencies, followed by a slow down in the second half due to election dynamics. IBM will continue working with clients to extend their limited resources by leveraging commercial infrastructure to speed development, reduce costs and risks for mission programs. The spotlight will continue to focus on government contractors of all sizes, offering an opportunity for our community to work together to demonstrate the tremendous contribution we provide to the Federal government." — Anne Altman, Managing Director, IBM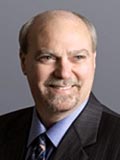 "We will see more industry consolidation. The multiples of Revenue and EBITDA are still reasonable for both buyers and sellers, and there are a lot of contractors in the $30 to $100 million range, so the opportunities exist. Of course, this will still require careful scrutiny to prevent conflicts of interest."
— Jack Hughes, CFO, Alion Science and Technology


"In 2008, Virginia will lead the way in driving government productivity."



— Aneesh Chopra, Sec'y of Technology, Commonwealth of Virginia
"2008 will be equal parts "" challenge and opportunity. We will all be challenged to deal with increased congressional scrutiny on defense spending and we will have the opportunity to deliver a better and more differentiated product to our government customers. Agile companies capable of dealing with constantly changing requirements will have the advantage. We'll see some non-traditional alliances among businesses. We'll have new partners. Businesses focused solely on 2008 will miss the opportunities that 2010 and beyond offer." — Sam Seymour, COO, Centurum
What are your predictions in the government contracting space for 2008?
Do you agree with these predictions?