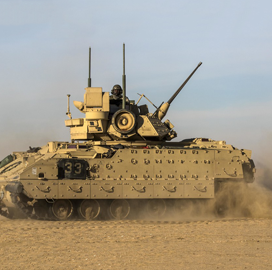 The U.S. Army has issued a request for proposals on next-generation combat vehicle prototypes under a program aimed to replace the service's Bradley Fighting Vehicles.
The RFP notice posted Friday on FedBizOpps seeks contractors that could individually develop at least 14 prototypes of the Next Generation Combat Vehicle-Optionally Manned Fighting Vehicle platform.
NGCV-OMFV should have the capability to support combined arms maneuver and missions in dense urban areas as well as rural terrains.
The service expects to award a pair of Middle Tier Acquisition Rapid Prototyping contracts, with each contract requiring the provision of 14 pre-production vehicles, two ballistic hull and turrets, armor coupons and logistics products.
Announcement of initial awards could happen in the second quarter of fiscal 2020.
Interested parties can still submit proposals to Army Contracting Command through May 9. The branch aims to field a new combat vehicle by 2026.