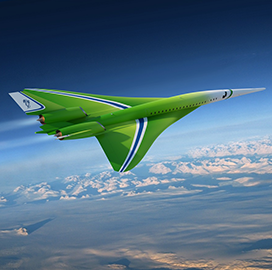 Lockheed Martin introduced on June 19 a supersonic passenger aircraft concept at the American Institute of Aeronautics and Astronautics Aviation Forum, FlightGlobal reported Thursday.
The 225-foot long quiet supersonic technology airliner would accommodate up to 40 passengers and have a 22-meter wingspan flying between 50K feet and 60K feet. It would also draw on a noise-reduction capability Lockheed is testing with NASA's X-59 supersonic demonstrator aircraft.
Michael Buonanno, lead engineer on the X-59 program at Lockheed, said the company wants its QSTA concept to reduce air pollution while flying at a high altitude. "Once you go above that altitude the impact of the airplane emissions increases," he noted.
"That demand is absolutely there," Buonanno said of supersonic passenger planes. "The reason this capability doesn't exist is some uncertainty about what future regulations [will] look like."
Other companies developing supersonic commercial aircraft are Boom Supersonic, Spike Aerospace and Aerion Supersonic, according to the report.