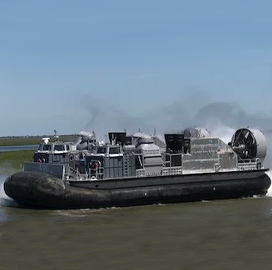 Anduril, an Irvine, Calif.-based manufacturer of artificial intelligence-powered unmanned aerial vehicles, has developed "interceptor drones" that work to autonomously detect and destroy UAVs, NBC News reported Thursday.
The company is currently under contract to deploy the drones to be used in overseas conflict zones. Anduril also secured a $13.5 million contract with the U.S. Marine Corps to integrate its systems into American and Japanese military bases, including the U.S.-Mexico southern border wall.
"What I really want is surveillance that you can deploy on demand to a specific area for a specific need and then pull out," said Palmer Luckey, co-founder of Anduril. "I want to be able to say, "˜An operation's about to happen right here. We need to soak that area with sensors from aerial vehicles, ground vehicles.'"
Luckey noted that Anduril does not deploy facial recognition or biometrics technology for its border wall systems, but also does not have the capability to prevent government users from using facial recognition to process the collated imagery.