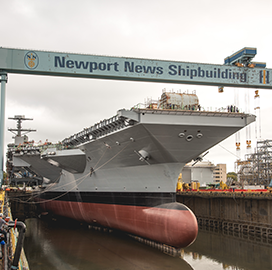 Huntington Ingalls Industries has begun filling the John F. Kennedy aircraft carrier's dry dock with water in preparation for christening and various tests.
The dry dock now contains over 100M gallons of water after a several-day filling process, HII said Tuesday.
Mike Butler, program director for the carrier, said the company has reached this construction phase three months earlier than the original schedule.
Kennedy, also designated CVN 79, will float westward of the dry dock after initial tests, and will move forward to more trials next month before the ship's Dec. 7 christening.
Afterwards, CVN 79 will undock and move to James River for system tests. The U.S. Navy expects the ship's delivery in 2022.