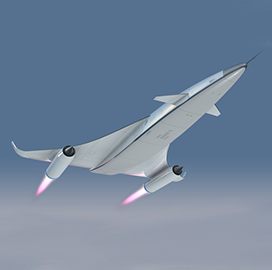 Reaction Engines conducted a ground-based test for a precooler heat exchanger developed in partnership with BAE Systems for a Sabre-built rocket engine.
The precooler extinguished 1.8K degrees Fahrenheit in airflow temperatures and validated its capacity to operate at an airflow speed of Mach 5, BAE said Tuesday.
According to BAE, the precooler may support various applications in industrial and automotive processes and could optimize the performance of jet engine technologies.
"The precooler heat exchanger is an enabling technology that we also have a real interest in for a number of other defense and commercial applications, including future combat aircraft and maritime vessels," said Phil Varty, industrial strategy manager at BAE's air business.
Reaction Engines and BAE partnered to help Sabre modernize space access systems under the HTC hot heat exchanger testing program.