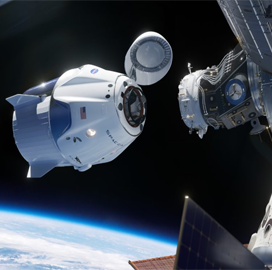 SpaceX plans to perform a static fire test of its Crew Dragon capsule on Nov. 2 at Cape Canaveral Air Force Station in Florida, CNBC reported Thursday.
The planned test seeks to show that the company has addressed an anomaly related to a leaking component that caused an unmanned capsule to explode during a test in April.
Once it completes the static fire test, SpaceX plans to conduct an "in flight abort test" by mid-December to assess the spacecraft's SuperDraco emergency escape system.
Edgadget reported the company intends to carry out at least 10 tests of the space vehicle's parachute system with plans to perform the crewed Demo-2 test early next year.
SpaceX and Boeing are developing their spacecraft under NASA's Commercial Crew Program. Boeing plans to perform an unmanned flight test of its Starliner crew vehicle on Dec. 17.