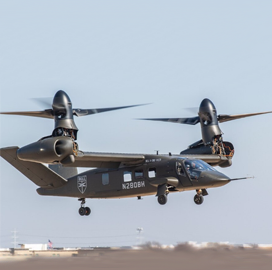 Textron's Bell subsidiary is slated to test the autonomous flight feature of a tiltrotor aircraft's fly-by-wire control system as part of the U.S. Army's one-year extension to the Joint Multi Role Technology Demonstration initiative, Asia Times reported Tuesday.
The V-280 Valor aircraft will carry out vertical takeoff, wingborne cruise and rotorborne vertical landing maneuvers during the flight test.
Ryan Ehinger, program manager for the V-280 project at Bell, said the firm has installed the autonomous build of the software into the aircraft.
Built as a potential replacement to the Army's UH-60 Black Hawk helicopter, the V-280 has recorded more than 150 flight hours and flown over 300 knots of airspeed in forward flight mode.
After the extension, the service branch is slated to issue the award for the Future Long-Range Assault Aircraft program's initial phase in March next year.