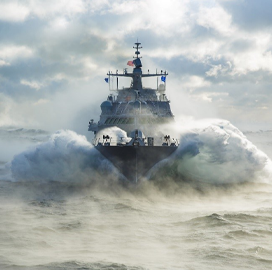 A Lockheed Martin-led team has concluded acceptance trials of a new Freedom-variant littoral combat ship.
The future USS St. Louis, or LCS 19, completed the tests in Lake Michigan in preparation for final adjustments prior to delivery, Lockheed said Monday.
"As each Freedom-variant hull deploys, we seek out and incorporate fleet feedback and lessons learned to roll in capabilities for new hulls," said Joe DePietro, vice president and general manager for small combatants and ship systems at Lockheed Martin.
Lockheed and its team plan to deliver LCS 19 to U.S. Navy in early 2020.
LCS vessels are designed to participate in a variety of near-shore missions such as mine countermeasures and anti-submarine warfare.
Freedom-variant units feature automated systems and use rolling airframe missiles and a Mark 110 naval gun to engage targets.