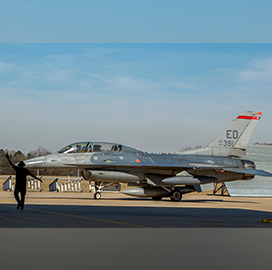 Lockheed Martin's Greenville-based facility, on March 9, accepted delivery of the first F-16 aircraft that will undergo sustainment as part of a $900 million contract with the U.S. Air Force.
The company said Monday it will sustain and perform depot-overflow services for the aircraft at the country's first government-dedicated F-16 industry depot.
The sustainment activities are meant to ensure the F-16 fleet's capability, readiness and performance.
The contract, awarded in December, provides for programmatic services, aircraft modification work and depot-level and unplanned maintenance. Lockheed inducted the aircraft on Monday to commence the said work.
Danya Trent, vice president of Lockheed's F-16 program, said the Greenville-based team is ready to help customers address F-16-related challenges, with production and sustainment activities taken into consideration.