The Dual-Use Technology in Space Defense Forum hosted by ExecutiveBiz Events on Tuesday featured distinguished speakers from government and industry who convened to discuss the opportunities, challenges and priorities related to space technologies which have both commercial and military application, as well as the implications these dual-use technologies have on the future of U.S. space systems.
William Nelson, director of the U.S. Army's Assured Position, Navigation and Timing Cross Functional Team, opened the event with an insightful keynote address which covered a range of high-priority topics such as data standardization, rapidly accelerating industry developments and integrated commercial space architectures, as they relate to the country's space defense and national security capabilities.
The program then proceeded to an expert panel discussion, led by Jennifer Krischer, vice president and general manager of Maxar Technologies' National Geospatial-Intelligence Agency programs, on commercial GEOINT for rapid decision-making.
If you missed Tuesday's event, visit the ExecutiveBiz Events page, where you can watch the Dual-Use Technology in Space Defense Forum and other GovCon events on-demand.
To initiate the panel conversation, Maxar's Krischer provided the audience with a bit of context on the topic, illustrating the current state of U.S. military and commercial focus areas in space.
"Shortening the timeline from sensor to decision is increasingly important as U.S. military pivots from counterterrorism missions to a focus on near-peer adversaries that are more likely to move their targets rapidly to evade detection and threat," she shared.
Krischer then opened the floor to introductory remarks from each of the panelists, beginning with Major General Aaron Prupas, director for Defense Intelligence Warfighter Support for the U.S. Air Force.
Maj. Gen. Prupas echoed comments made by William Nelson in his opening keynote address, highlighting some of the most urgent threats currently facing the U.S. in the increasingly contested space domain.
"China's our pacing challenge," Prupas said. "In order to keep pace and regain the dominant edge with China, it's going to rely on dual-use space technology."
Prupas also highlighted the human element of rapid decision-making capabilities and noted that greater, more seamless collaboration between warfighters and technology is necessary to achieve superiority in this area.
"Warfare and deterrence is a human endeavor that's cognitive," Major General Prupas commented. "The challenge today is that with the pace at which the world is accelerating, the human alone can no longer keep up. So how do we do human-machine teaming, artificial intelligence and machine learning to allow that decision superiority?"
Next, Joseph Rouge, deputy director of Intelligence, Surveillance and Reconnaissance for the U.S. Space Force, joined the discussion to share with the virtual audience the Space Force's history of collaborative partnerships with industry.
As the Space Force enters its third year of operation, Rouge reflected on the agency's origins and said, "One of the key things that we did as we started is we recognized that we needed to be born digital. In that, we also realized that we needed to be built around collaboration with both commercial and ally space capabilities."
Rouge noted that along this focus area, the Space Force recently stood up a commercial services office, which will help the agency manage and optimize its $500-$700 million per year procurement portfolio of commercial satellite communications.
He also shared that with 18,000 enlisted guardians, the U.S. Space Force is one of the nation's smallest services and is only about one-third the size of the Coast Guard.
"As a result of this, being a very small service, we are needing to take advantage of technology to a maximum extent so that we can actually accomplish our missions," Rouge said.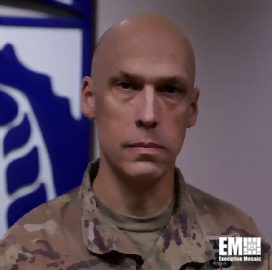 Finally, Colonel Joseph O'Callaghan, XVIII Airborne Corps Fire Support officer for the U.S. Army, shared his opening remarks, which focused primarily on data at the center of U.S. warfare capabilities.
"The key to the success for the U.S. forces in the future is going to be data-centric warfare," Col. O'Callaghan posited. "How do we bring together as much data as we can, and then rapidly make sense of that via insight? Gone are the days of really a lot of human analytics – we're moving towards insight-based warfare."
This collaboration between government, industry and the intelligence community, Col. O'Callaghan said, is currently underway through a program in the XVIII Airborne Corps called Scarlet Dragon.
Col. O'Callaghan explained the Scarlet Dragon program as a way to open the dialogue between the developer and the actual user of a capability to better equip warfighters with the tools they need.
"In the approach that industry uses, it really has to be a dual function, both to the [operations] and to the [intelligence] sides to really drive the dialogue of what's in the realm of the possible," commented Col. O'Callaghan.
To hear the full panel discussion, visit the ExecutiveBiz Events page, where you can watch the Dual-Use Technology in Space Defense Forum on-demand.
Join our sister platform, GovCon Wire Events, on March 9. for its Second Annual Air Force: IT Plans and Priorities Forum, which will feature elite officials from the U.S. Department of the Air Force – which oversees the U.S. Space Force – and industry, who will speak on the service branch's information technology modernization strategies, procurement efforts and innovation initiatives.
Air Force Chief Information Officer Lauren Knausenberger, a recent 2022 Wash100 Award recipient, will keynote the event, leveraging her extensive IT expertise in the service branch to provide exclusive insights into the Air Force's digital transformation efforts and key IT modernization initiatives.
Register here for the Second Annual Air Force: IT Plans and Priorities Forum on March 9!