As a business owner, you've certainly tried and tested a variety of methods for expanding your target market. But have you thought about taking on the government as a client?
According to the United States Small Business Administration, the federal government alone purchases approximately $100 billion in goods and services from small businesses each year. This does not include state and local government purchases, which are far larger.
Contracts are available from the United States government to both sole proprietorships and corporations. Small business owners are given a certain number of government contracts. Not only that, but government contracting has additional advantages.
If you haven't thought about selling to a government agency, you might be losing out. Continue reading till the end because today I will explain some essential steps to becoming a government contractor and why your business needs it.
How do I become a government contractor?
Establish a Business
The first step to become a government contractor is to start your own business. Starting a business is not an easy task, but if you want to work with the government, your process will be easy since you have a goal.
Register your business
Once you have established your business, the next step is to undergo SAM registration to be considered for government contracting opportunities. The US System for Award Management (SAM) also manages a searchable database of businesses looking for government contracts.
Acquire DUNS Number
Data Universal Numbering System (DUNS) of Dun & Bradstreet (DB) is an official nine-digit number that may instantly identify small businesses, corporations, companies or other firms.
DUNS number will remain the same throughout the existence of your business. DUNS number is also used to track down companies and their international financial transactions. You may obtain your DUNS number free of charge by using their online DUNS request service platform.
Get a NAICS code
Small businesses are required to get their own NAICS (North American Industry Classification System) number. In the United States, this code is used to categorize small businesses, enterprises and collect economic statistics. Indeed this code is needed to register and apply for federal contracts. However, keep in mind that if your company works in different industries, you may need to obtain multiple NAICS codes as a business owner.
Check your EIN and Social Security Number
The federal government will need you to obtain an EIN (Employer Identification Number) or also known as Federal Tax ID Number whether you are a large or small business owner. You can obtain your EIN for free from the Internal Revenue Service (IRS)
Apply for certification
There are also sole-source contracts and set-aside programs that the federal government offers, yet to be eligible for government certification; you must complete an application with the Small Business Administration.
Once you get your certification, it is highly suggested that you keep all your certificates in one place and make copies of the documents that you send to the SBA so you have them for your business records. But if there's any information you wish to change during the application process, contact the SBA immediately to amend your application.
Search for open federal contracts online.
Once you are done with your preparation, certification, SAM registration and other requirements, you may now find out which federal agencies are willing to buy your product and how they will purchase it.
You may check SAM.gov for detailed information on most of the government's past purchases and the recent biddings open for any business.
Check for smaller state and local contracts.
Just in case you are still waiting for your small business certification but eagerly excited to win your first government contract you may want to try bidding for state or local government contracts before jumping right into federal contracting.
Each state has its process and detailed requirements to register as a state government contractor. To find out the registration process and open contracts available in your state, you may visit your state's procurement office or log in to your local government's official website.
Research government agencies
This step is optional if you are aiming for any government agency contractor from the federal government. However, if you are eyeing a particular federal agency or department, you need to research and understand their budget and operations.
With researching you'll learn to determine how high or cheap to bid in order to win their contract. If your offer is accepted, you'll have access to the most up-to-date information on rules and safety requirements that may apply to your organization.
Meet size standards
Before you submit your proposal make sure that your business meets the size requirement set by the SBA. Business sizes standards define the maximum size that businesses and other companies can qualify as small businesses for a particular contract.
The SBA has established a size standard for each NAICS code. On the Code of Federal Regulations Title 13 part 121, you can view all the given exceptions and laws made by the government.
For more information on determining if your business qualifies as a small business for contracting projects, you may check it on the SBA Table of size standards and size standards tool.
Place Your Bid
Once you've settled everything, you'll be ready to bid for government contracts.
Here are a few reminders in placing your bid:
The government takes all of its laws and regulations seriously, and you may be banned from competing for a variety of reasons. As a result, carefully study the contracts.
Make certain you understand all of the contract's conditions. Many of these will be included in the contract, but others may be taken from other sources, most especially the Federal Acquisition Regulation.
Don't spend too much time studying the Federal Acquisition Regulations (FAR) or the collection of rules that regulate procurement. However, make sure to properly read the contract's terms and conditions.
You can outsource or hire government procurement consulting services to complete this process. But be aware that consulting fees can crumble down your profit margins on government contracts.
Receiving an answer
The government normally reviews proposals in 30 to 120 days and assigns a contracting officer to each evaluation. Since the bid is open to the public, the government also publicly announces which bid was awarded, including the company name and project amount.
Contracts are awarded based on multiple factors, according to USA.gov, including
How responsible and responsive the business
How technically acceptable the proposal
Past performance references
Pricing the and terms
Finding out if you won the contract or not may take some time. However, one thing is certain: you will receive personal updates from the government entity when the process is completed.
Network within government and procurement programs
Whether you win government contracts or not, federal contracting does not end there. You might want to win and cultivate the government as a client like any other contractor. With that, it will be better for your business to know the people in the industry, especially the local government.
Talking and networking with government agencies can help you better understand the agency's needs and budget restrictions. With networking, you are not just aiming to win government contracts but also building trust and business relationships necessary for doing business.
Attend government agency events
The SBA and other government agencies host conferences, workshops, and other events that allow contractors to better network with the staff in different government agencies. Government procurement experts frequently attend these events and share their expertise.
As of these times, the government conducts workshops and seminars through some online platforms, so whether you are on a vacation or roaming around the rural areas, as long as you have an internet connection you can register and their events.
Find a mentor
As a starter, things might get overwhelming for you in federal contracting. To be successful in understanding the industry, you may want to take part in mentor programs sponsored by the federal government.
GSA mentorship program can help you navigate the bidding process and get you on your way to winning your government contract. In comparison, the Small Business Administration's 8(a) program will help you connect with a successful federal contractor.
Consider subcontracting
If you think that you and your business are not yet ready to handle a prime federal contract, you might want to consider subcontracting for a larger company that has been awarded a prime contract.
Many federal contracts require large companies to subcontract with small businesses. Subcontracting can also help you build performance, gain better idea references and experiences, which will be beneficial when you apply for a prime contract.
For subcontracting opportunities, you may visit the SBA's website.
How much does a government contractor make?
According to the research, the average yearly compensation for a Federal Contractor in the United States is $98,706 as of October 11, 2021. However, take note that the given number may go up or down depending on the contractor you will work with.
How much a federal contractor earns is a question that no one can definitively answer. Because, in the end, it will be determined by the contracting opportunity and the government's budget.
Who qualifies as a federal contractor?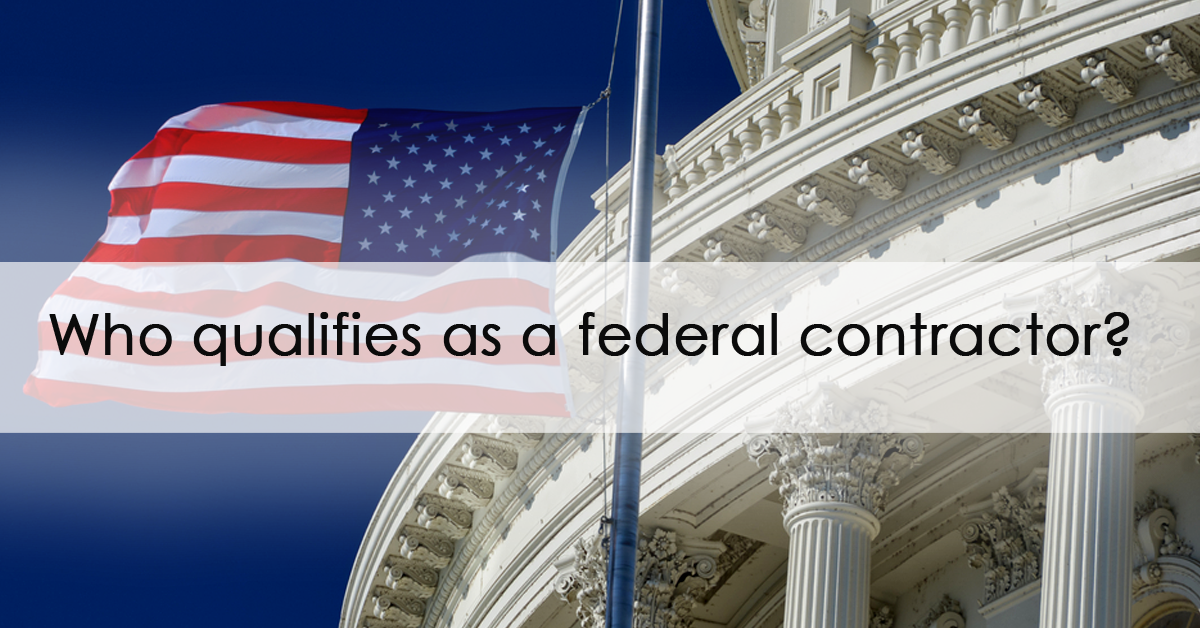 Federal contractors must adhere to certain moral and legal implications. Discrimination based on gender, race, color, sexual orientation, veteran status, national origin, religion, or disability is forbidden.
Furthermore, when it comes to employing people, contractors must be proactive. They must hire workers from historically discriminated-against communities or economically disadvantaged business.
So, who qualifies as a government contractor? Everyone is eligible to win a government contract. As long as you follow their application process, requirements, qualifications and instructions, you can submit your application and be a government contractor.
Why does your business need to be a government contractor? This will not just help the company grow, develop, and earn big amounts of money. With the help of government contracting, your business can gain a reputation and build good branding.
Again, as a reminder, federal contracting is not an easy job. So if you are taking this path, and fully decided to become a government contractor you shall give your total commitment to grow and make a mark in the industry.