According to research, 4.4 million new businesses were created in the United States in 2020. This data is surprisingly the highest record compared to the previous years of economic growth in the country.
You might be thinking, what made the business industry rose to this number? Well, I guess these entrepreneurs created a business out of a need, especially in the midst of the pandemic. In contrast, the others are just tired of working and want to be their own boss.
Many entrepreneurs face different challenges; some are successfully making their mark in the industry they are working in, and a few aim to get federal contracting opportunities.
The government agencies provide several resources to help entrepreneurs decide whether having a business suits them or not. More often, courses and other resources can be found online free of charge and with unlimited access. Some great speakers can answer all the necessary questions about contracting, certification, scaling up the business, and all the business-related types.
Today on this read, we will be talking about minority government contracts and how to bid in them.
What is a minority-owned business?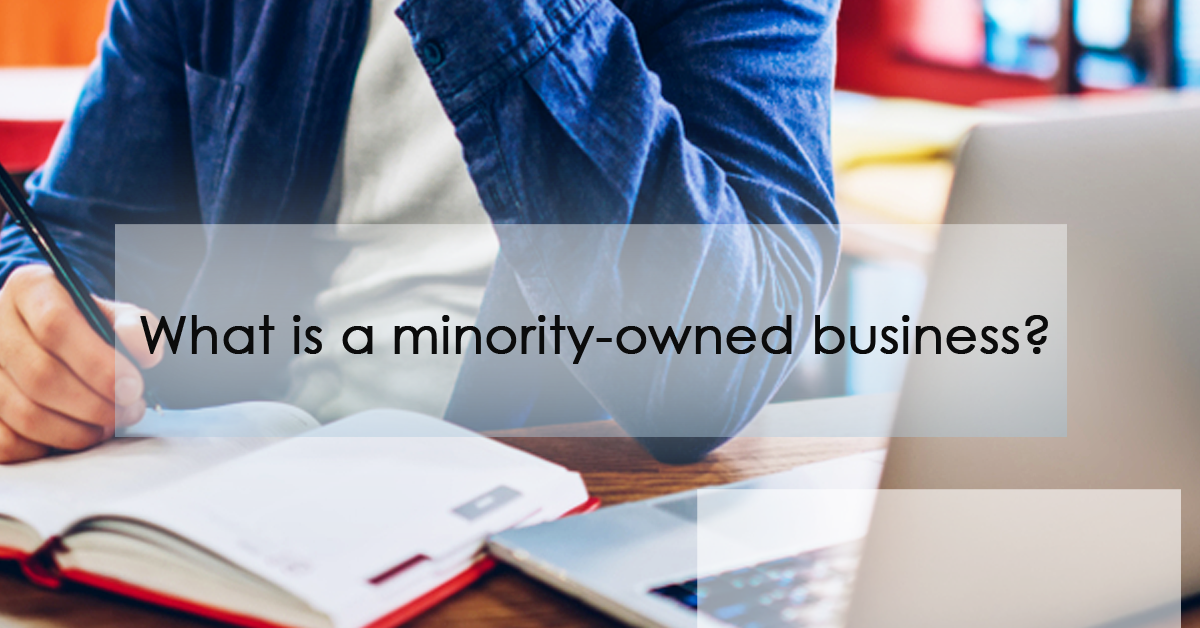 According to the government law, twenty-three percent of federal government contracts must be offered and rewarded to small businesses. Five percent of it is meant for minority-owned companies.
One of the prerequisites for being classified as a minority-owned business enterprises is that the organization is majority-owned by people who face social and economic disadvantages. The Small Business Administrations (SBA) categorizes it as African Americans, Hispanic Americans, Asian Pacific Americans, Subcontinent Asia Americans, and Native Americans.
Minority-owned businesses are part of the 8(a) certification program that intends to assist minority-owned businesses in remaining competitive in the federal contracting market.
However, your business does not necessarily need to belong to the categorized group to be part of the small minority-owned businesses and compete on a free enterprise system. All you have to do to be considered is demonstrate that your organization has economic and social disadvantage issues.
Also, your business can be a member of an economically disadvantaged group if you do not have much access to credit opportunities and capital from the free market.
Here are more pointers to identify your business as a minority-owned business.
You must show that the business is controlled and owned Fifty-One percent or more by socially economically disadvantaged people.
The business has a strong potential and has been operating for two or more years.
The business can meet all the federal parameters for a small business.
If your business has the characteristics mentioned above, you can now apply for 8a certification.
8(a) certification and 8(m) Business Development Program
The government's primary goal is to allocate five percent of all federal contracting funding to small disadvantaged businesses. But there are more benefits that minority-owned firms can have.
In the 8(a) certification program, a disadvantaged business enterprise can:
Participate in the program's set-aside and sole-source contracts.
Obtain the assistance of a Business Opportunity Specialist to assist in navigating federal government contracting.
Using the SBA's Mentor-Protégé Program, form joint ventures with established businesses.
Get managerial and technical aid, such as business resources training, counseling services, business certification process, marketing help, and high-level executive development.
8(a) program qualifications
Here are some things that you and your business need to know to qualify for the 8(a) certification program; follow this eligibility checklist:
As defined by the SBA, you must be a small business.
Have no prior experience with the 8(a) program.
Be owned and controlled by at least fifty-one percent of socially and economically disadvantaged Americans in the United States.
Have a net worth of less than $750,000, a gross income of less than $350K, and assets valued at less than $6 million reflecting in financial statements.
Demonstrate good conduct and the capacity to complete contracts.
According to Title 13 Part 124 of the Code of Federal Regulations, the federal law expressly outlines who is eligible for the 8(a) certification program, including social and economic deprivation.
You can also use the SBA's Certified website to acquire a preliminary assessment of whether the 8(a) certification program is suited for you.
The state government limits competition for particular contract opportunities for enterprises that engage in the 8(a) Business Development Program to help ensure a business opportunity fairs playing field for small businesses, socially disadvantaged, and economically disadvantaged people or entities.
8(m) Women-owned business
8a business development program helps socially disadvantaged businesses, but the SBA is clever enough to create a business program that helps women-owned businesses.
8m certification is designated for women-owned small businesses (WOSB) and gives access to federal contract opportunities. Just like the 8a, the local government gives women-owned small businesses (WOSB) five percent of contracting funds.
These contracts are for industries with a low percentage of women-owned small businesses. When a company enters the WOSB Contracting Program, it becomes eligible to bid on contract opportunities set aside for the program. Other owned businesses can still compete for certification and contract awards if they qualify for other socioeconomic initiatives.
How to bid on minority government contracts?
Of course, getting contract opportunities is not that easy. There are still procedures that you need to complete before you obtain your minority contracts. Listed below are the following steps that you need to know.
Choose your business idea
Everyone can start a business, but you still need to brainstorm and develop big ideas. The following questions can help you in searching for your business idea.
Where do you have experience?
What resources do you have access to?
What interests you?
What problem can you solve?
These questions are helpful enough for you to come up with the right business idea. However, answering the given questions is not always a quick and easy process.
You may also look into your local neighborhood to see if you can start a minority-owned business that will help the community.
Create a business plan
Once you have chosen the business industry you want to work with, your next step is to plot all your business logistics in a plan and other written documents.
Writing a business plan is not only a valuable tool for planning your business, but it is also a comprehensive tool as you make your business decisions.
Furthermore, depending on the type of business you're beginning, your business plan will vary. In this way, it is helpful to draft a few different versions of your strategy based on what your business needs to fill in, such as pitching to investors, building your team, applying for a loan, expanding, etc.
Register Your Business
You can now register your entity after you have a concrete idea of what your business is all about and have already prepared all the necessary documents you need for your business. To be eligible for public sector contracting opportunities, you must first register your company with the award management system.
The official website of the United States government entity is System of Award Management (SAM) that houses searchable databases of large companies, prime contractors, and minority-owned businesses interested in government contracts.
Your company must be up to date, registered, and must have a certification as a government provider of this platform.
Obtain certification and DUNS number
The Data Universal Numbering System, or DUNS Number, of Dun & Bradstreet (DB), is a nine-digit identification number used to identify a company or firm instantaneously. DUNS numbers do not alter throughout a company's existence.
The DUNS Number is also used to keep track of trades and financial transactions all around the world. Using the DUNS Request Services platform, you can get a DUNS Number online.
Obtain a NAICS code for your business.
Whether your company is a modest business, a major corporation, or part of minority group members, it will always require a NAICS (North American Industry Classification System) code.
To register and bid on federal contracts, your company will need a NAICS code for this code was created to identify businesses and collect data on the American economy.
Keep in mind that if your company works in many industries, you may need to obtain and submit multiple NAICS codes. You may get more information about the NAICS number at the Small Business Administration (SBA).
Verify your Employee Identification Number.
Other small business owners prefer to operate their establishment using their social security number; however, the government requires contractors to have an Employee Identification Number (EIN).
If you need assistance acquiring an Employee Identification Number (EIN), you can contact the Internal Revenue Service (IRS).
You are now ready to look into federal contracting after you've completed this list of prerequisites.
Where to bid for minority government contracts?
SAM.gov
SAM.gov is an official United States government agency website where you can search for all available bid information and contracting opportunities. On this page, you can also view prior awarded bids, which will help you prepare your offers.
The previous list of Federal business Opportunities databases (Fedbiz Opps) has been consolidated into the website to make it easier to find contract opportunities, contract data reports, and assistance listings, among other things.
SubNet
Contractors with big government contracts offer subcontracting possibilities, which they advertise on SubNet. According to their website, SubNet, or the Small Business Administration Subcontracting Network, connects small businesses with contracting opportunities.
The Small Business Administration (SBA) maintains a searchable Subnet database that emphasizes subcontracting opportunities from companies with large federal contracts.
If you're new to government contracting and want to dig deeper about how agencies and businesses collaborate, SubNet possibilities are a fantastic place to start.
General Services Administration (GSA)
The General Services Administration (GSA) of the United States is a federal organization that connects government buyers with contractors.
"Getting onto the GSA Schedules" refers to having a contract with the GSA. Obtaining a scheduling contract on General Service Administration could aid in the expansion of your company.
The GSA Schedule accounts for a significant portion of all federal management expenses. Every year, this database lists billions of dollars worth of purchases.
GSA Schedules, also known as the Federal Supply Schedule and Multiple Award Schedule (MAS), are long-term bids for products and services from the General Services Administration.
How do you get awarded government contracts?
You can begin bidding for and winning minority contracts when you've accomplished all of the preceding processes.
Once the federal government gives the solicitation information for government contractors, they always indicate in their posting if it is open for large contractors, minority-owned enterprises, women, and or small businesses.
Indeed, government contracting as well as get certified is tricky at first glance. But once you get along with it, you will surely master it and instantly get contracts in the future.
There are available resources that you can use as you take the path of the organization's ownership. Any that remains is for you to get a complete awareness and dig deeper into how federal contracts work and all the similar line of information.