The Small Business Administration (SBA) defines women-owned small businesses as small business enterprises that are 51% owned and controlled by one or multiple United States female citizens.
Major changes have occurred in the certification process for women-owned businesses and economically disadvantaged WOSBs (EDWOSBs) in 2020. While you may not become certified in time, most likely, you'll at least be getting ready for the transition by 2022. This post will help prepare you for this change and get you one step closer to a woman-owned business certification.
What is women-owned business certification?
Women-owned business certification signifies that a company is owned and operated by women. The government offers this certification to businesses to promote gender equality in the workplace and encourage women to start businesses of their own.
Privately run organizations also offer similar certifications for small businesses. Getting certified can be a boon for these companies, as it opens them up to valuable networking opportunities, grants, and consulting services.
What are the different certifications for women-owned small businesses (WOSBs)?
Women's business enterprises and WOSBs are both great resources for women entrepreneurs. These designations are used by various industry associations and U.S. government agencies to set aside special programs to encourage female entrepreneurs to join. However, there are some differences in how women's businesses qualify for certifications.
Women's business enterprises (WBE)
The Women's Business Enterprise National Council (WBENC) created the WBE certification program. It is a third-party certifier that started in 1997. Other organizations provide third-party certification as well.
What are the eligibility requirements?
The requirements may vary from each state. The minimum requirements administered by the city, state, or state to be qualified for the certification are the following:
Proof that the female is in charge of the businesses' management and control
The female holds the highest title in the company's legal documents
The organizations should be operating for more than 1 year
Females have full control of the businesses' daily operations and legal documents
Documentation of the female's capital contributions and technical expertise
Firms must have less than 300 employees
What are the benefits of WBE certification?
Awarded by the NWBEC, this certification provides many resources for further developing a woman-owned small business (WOSB).
1. Networking opportunities
WBENC hosts multiple national and regional events yearly to help female entrepreneurs develop professional connections with their fellow business owners who can equip them with the skills and tools to prosper and grow their businesses.
Some of the events include the National Conference and Business Fair and Summit and Salute, which gave them access to the following:
Opening an exhibit booth
Targeted marketing
Meeting with potential clients and mentors
Informal networking
Joint venture agreements with another woman business enterprise
2. Business partners
Being WBE-certified gives women access to the organization's hundreds of corporate members, including AT&T, Amazon, Apple, and Walmart, who are among the Fortune 500 companies.
Once your WBENC application gets approved, you will be added to their database, and you can access it to make yourself visible to these companies needing someone to fulfill their contract.  Other suppliers and procurement executives also focus on partnering with women-owned businesses.
3. Marketing
With this certification, women-owned businesses can stand out in marketing strategies. This will let them proudly advertise their certification to gain more customers who support and value female entrepreneurs. WBENC may also feature their company to a network of stakeholders for increased sales opportunities and visibility in the marketplace.
4. Education
One of the biggest benefits of WBE certification is access to education, training, networking, and mentorship opportunities. A WBENC representative can help you develop your business plan, improve your marketing strategy, and more. This certification can also enable you to connect with keynote speakers and workshops that can offer support or advice to manage a business successfully.
WOSBs
WOSB certification is a program designed to help a woman-owned small business compete for federal contracts. The U.S. Small Business Administration (SBA) oversees the WOSB Program under Section 8(m) of the Small Business Act. It is responsible for certifying eligible applicants as WOSBs and the program's contract requirements.
The federal government has prime and subcontracting goals for small businesses, and women-owned small businesses must be awarded 5% of the prime and subcontract dollars.
What are the eligibility requirements?
As stated in the SBA, it requires companies to:
meet size and annual revenue requirements based on the SBA
limit their organizations to certain NAICS codes
Must be certified by the SBA, state government, organizations approved by the SBA, and federal agency
have the woman manage the daily business operations and long-term planning
be controlled by an American female by 51%
What are the benefits of WOSB certification?
The WOSB program is an important benefit to a woman-owned small business that relies on contracts. The program is created to level the playing field for smaller companies and encourage them to compete for government contracts. Here are some of the benefits of WOSB certification:
Federal contracting program
Federal programs help female business owners have an equal opportunity to compete for profitable authority contracts to increase the number of women-owned businesses receiving federal contracts.
As stated in SBA's annual Small Business Procurement Scorecard in 2019, agencies have awarded about $133 billion in small business prime contracts and satisfied SBA's goal to allocate 5% of the prime contracts to female-owned businesses. This goal now also applies to state and local governments and the private sector.
Noncompetitive sole-source contracts
Sole-source contracts don't involve bidding techniques. They are profitable contracts awarded to agencies that offer unique products or the most useful services for a particular project. It can amount to $4 million for products and about $6.5 million for production jobs.
Competitive set-aside contracts
This contract allows businesses to compete for federal contracts set aside for women-owned and minority-owned certified businesses to meet their 5% quota.
EDWOSBS are particularly favored because they have difficulty gaining access to these opportunities. However, they will need to bid, and an EDWOSB certification may give them an advantage over uncertified entities.
Economically disadvantaged WOSBs (EDWOSBs)
Economically disadvantaged women-owned small businesses (EDWOSBs) are a subset of all WOSBs). This means that you are automatically eligible as a WOSB if you are EDWOSB-qualified, but not vice versa.
What are the eligibility requirements?
One or more women are qualified and considered economically disadvantaged if the following applies to them:
less than $750,000 personal net worth
less than $6 million fair market value in assets
$350,000 or less in adjusted gross income averaged in the past 3 years
Certified economically disadvantaged individuals can compete in small business soul-source and set-aside contracts, opening many contracting opportunities. Further, there are also federal contracts that are exclusive only to EDWOSBS. The primary benefit of these government contracts is that they are set aside strictly for EDWOSBs with limited competition.
What are the benefits of women-owned business certification?
According to the Institute for Women's Policy Research, the number of female-owned businesses increased faster than men-owned businesses by four times, which is 28.5% compared with 7.5% from 1997 to 2015. There are many benefits to getting the women-owned business certification, and some of them include:
Increased visibility
Visibility is needed for competing with larger organizations. Many large corporations look for women-owned businesses when searching for vendors or contractors. So, having your company certified by the WBENC can help you participate in set-aside contracts, get noticed, and win bids from sectors and industries in the North American Industry Classification System (NAICS).
Access to endless opportunities
Having the WBENC seal on your website can help you attract more clients; this certification also increases your credibility with potential partners who have relationships with other businesses with WOSB or EDWOSB certification.
In addition, you'll have access to educational resources and networking opportunities through WBENC's resources and opportunities like marketing opportunities, salute events, and more. You can also attend national conferences held by WBENC throughout the year, where you'll meet other women entrepreneurs committed to succeeding in business.
How to successfully apply for the women-owned business certification?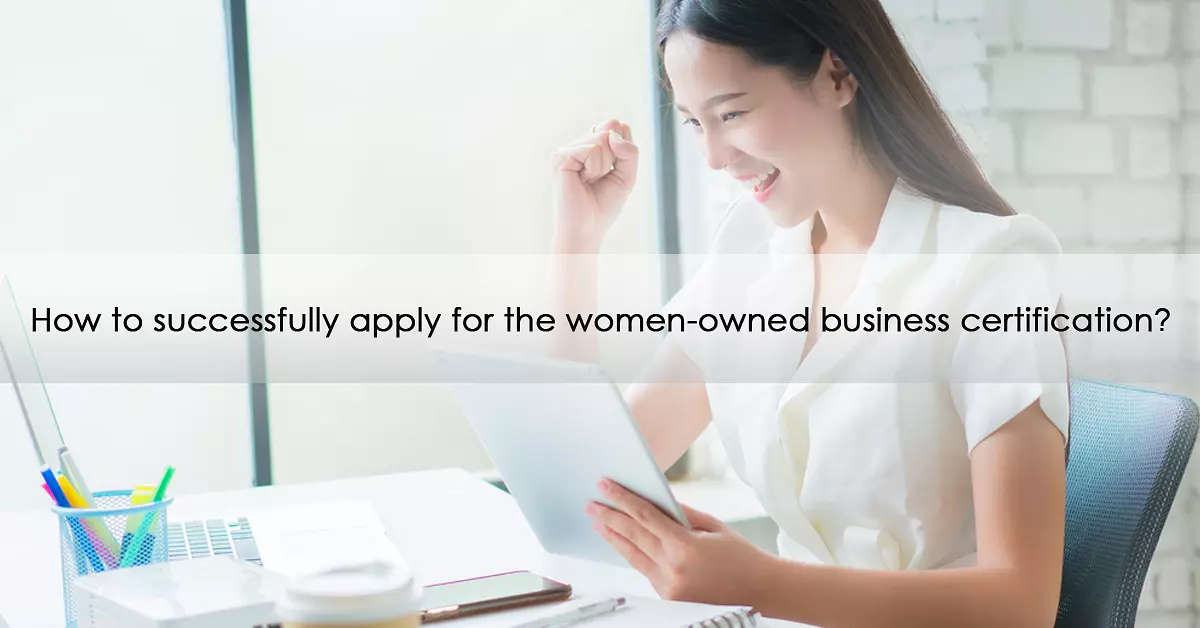 After determining which certifications fit your business, you need to start registering, as it can take months to finish the process. We've listed a few easy steps to guide you to register as a woman-owned business and help ease underlying concerns.
1. Reach out to your local small business office
Every agency caters to various services and assistance for certifications and own business needs. Find out what services they provide, explore options for accreditations, and check if there is a local business office in your location. It can give suggestions, discuss possibilities, and help you access the necessary resources like business grants for women.
2. Know how government contracts work
The next step is to learn about industries that offer the most favorable opportunities for female entrepreneurs. Start by looking at grants.gov. Here, you can easily search by using a handful of parameters, search by keyword, see types of funding, closing dates, and more.
3. Sign up for government registration
Setting your WOSB status aside, the first thing to do is register before bidding for contracts. Visit the SAM website to acquire an MPIN code for your WOSB application. Next is to get a unique entity identifier, a 12-character alphanumeric ID that is also one of the requirements for WOSB certification.
4. Complete all the necessary paperwork and documentation
Collect all the required paperwork and documentation such as proof of citizenship, operating agreement, bank, and financial statements, tax documents, and more that will support your request for certification.
It can be challenging to find all of these records if you haven't kept them organized, so make sure to gather them as soon as possible so that you don't have to worry about missing anything when you apply for certification.