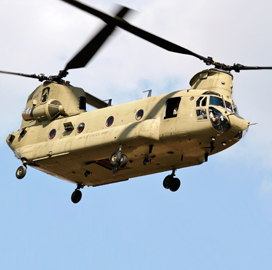 Triumph has received a five-year, $50M contract from the U.S. Army to maintain, repair and overhaul engine fuel pump metering units for the service branch's CH-47 Chinook helicopters.
The company will utilize its fuel pump maintenance and repair station to carry out routine repairs for the Chinook aircraft's T55 engines under the contract, Triumph said Monday.
The firm noted its repair station works to deliver maintenance and repair efforts for hydromechanical units used by military and commercial rotorcraft units. 
Frank Dubey, executive vice president at Triumph's integrated systems business, said the effort will help optimize the Chinook fleet's performance by ensuring "the engine pumps we make for the T55 Chinook are repaired and maintained with the same level of quality and expertise used in our [original engine manufacturer] manufacturing process."